LKQ Pick Your Part

Sun Valley
11201 Pendleton Street
9:00 AM
-
6:00 PM
9:00 AM
-
6:00 PM
9:00 AM
-
6:00 PM
9:00 AM
-
6:00 PM
9:00 AM
-
6:00 PM
9:00 AM
-
6:00 PM
8:00 AM
-
5:00 PM
LKQ escoga su parte es el patio de salvamento y tiene la mayor selección de piezas de automóviles OEM en Sun Valley, California. Compramos coches usados ​​en cualquier condición.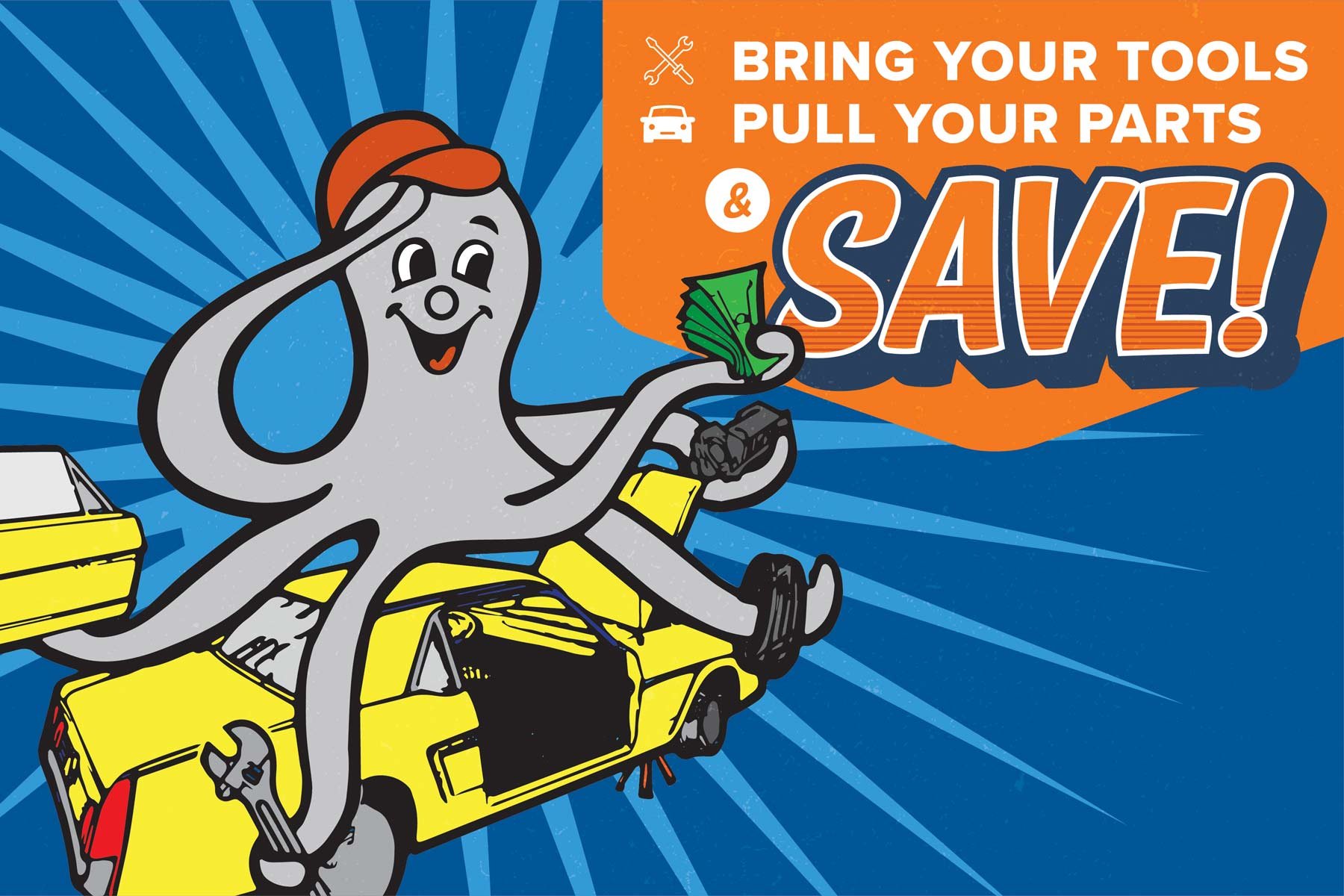 Entrance Hours
Día de la Semana
Horario
Mon

9:00 AM

-

6:00 PM

Tue

9:00 AM

-

6:00 PM

Wed

9:00 AM

-

6:00 PM

Thu

9:00 AM

-

6:00 PM

Fri

9:00 AM

-

6:00 PM

Sat

9:00 AM

-

6:00 PM

Sun

8:00 AM

-

5:00 PM
Debe Tener 16 Años De Entrar
PARTS, INVENTORY, & PRICING FOR
LKQ Pick Your Part - Sun Valley
PART SEARCH

Find the parts you're looking for in our vast inventory of vehicles which is refreshed daily. Our interchange makes it easy to find the part you need across years, makes, and models.

VEHICLE INVENTORY

With new inventory added to our yard daily, we make it easier for you to find the parts you need faster! Use our Vehicle Inventory tool to see what vehicles are in our yard. Be sure to check back often for our most current vehicle inventory.

FIND PARTS PRICES

Save money on auto repairs with our super low prices! LKQ Pick Your Part is a great alternative for expensive repair shops and auto parts stores. Bring Your Tools, Pull Your Parts, & Save!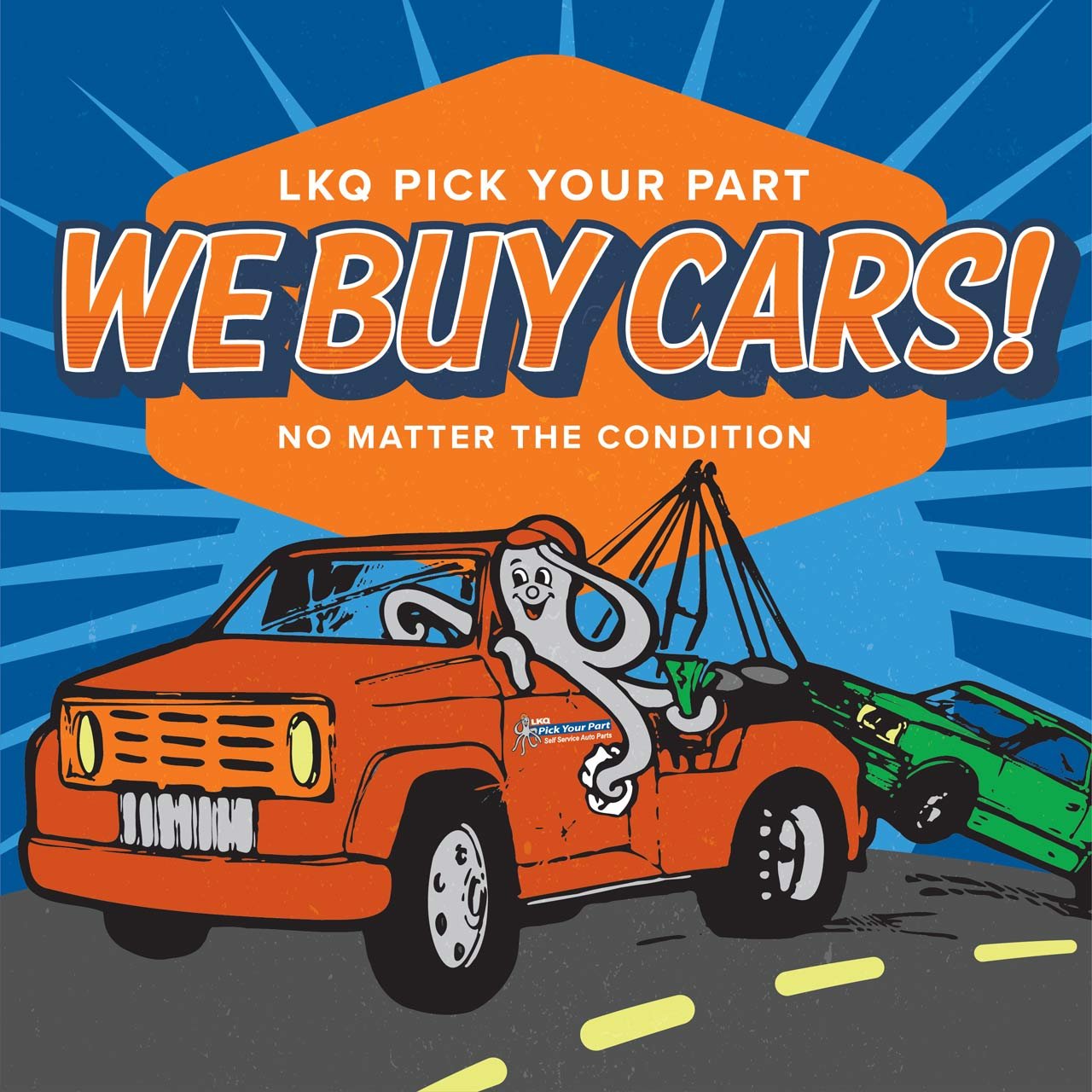 SELL YOUR JUNK CAR
WE'LL PICK IT UP!
Are you looking to sell your old car? We'll buy it today! LKQ Pick Your Part - Sun Valley is the leading used car buyer in the Sun Valley, CA area. We'll pay you top dollar for your used or junk car regardless of the condition. Whether your used car is still running or it's an old junk car taking up space in the driveway, we'll buy it! The best part is, when you sell us your car, we can provide you with free car removal services. Get your free no-obligation quote today, to see how much you can make on your used car sale. We make it easy to get a quote online or you can call 1-800-962-2277 to talk with one of our friendly representatives today!
Get Your Instant Quote!
TESTIMONIALS
Great Selection of cars!! I'd suggest searching online for vehicle inventory and date it arrived just to be safe. It's often disappointing to come and the car be stripped of the part you needed. Other than that great place for parts that meet your budget!
Acerca de LKQ Pick Your Part Sun Valley
Calidad Auto Parts - LKQ escoja su parte de Sun Valley es su auto-servicio deshuesadero de piezas de automóviles usados. Ubicada en 11201 Pendleton, LKQ escoja su parte de Sun Valley ofrece miles de modelos de coches nuevos y viejos de segunda mano y camiones. Tienen miles de partes usadas de alta calidad, partes de autos usados ​​disponibles a una fracción del costo en comparación con los concesionarios de automóviles caros y las cadenas de suministro de piezas de automóviles. LKQ Pick Your Part compra de Sun Valley coches usados ​​de subastas, compañías de seguros, compañías de remolque, y personas como usted. Los vehículos se procesan primero a través de la construcción de preparación en el que todos los fluidos son drenados desde el coche o camión usado antes de ser colocados en soportes de las ruedas en el cementerio de automóviles, listo para tirar. Un bajo precio le consigue la entrada al depósito de chatarra. Por una pequeña cuota adicional, se puede obtener también el acceso a la sección de partes Primo que tiene compuesta de partes más deseables que ofrecemos. LKQ escoja su parte de Sun Valley ha estado sirviendo al sur de California por más de 30 años con estado del arte, instalaciones ambientalmente seguros. LKQ escoja su parte de Sun Valley es el líder reconocido en la industria de la pieza de automóvil usado. LKQ escoja su parte también es el principal comprador de un automóvil chatarra de Sun Valley, pagando el más efectivo para los coches en la zona de Sun Valley.
Obtener su cotización gratis
y averiguar lo que vale su coche hoy. California Desmantelador Licencia # 02801